avril 20, 2018
PMI-ACP certification exam reference books list
Exam candidates should be aware that the PMI Agile Certified Practitioner (PMI-ACP) examination is not written according to any single text or singularly supported by any particular reference. PMI does not endorse specific review courses, resources, references or other materials for certification preparation.
The references listed below are not inclusive of all resources that may be utilized and should not be interpreted as a guaranteed means of passing the exam.
As the PMI-ACP is a competency–based certification which assesses the integrated set of knowledge, skills and abilities as gained from both practical and learned experiences, it should also be noted that the references identified herewith are but one element of a broader set of educational resources and texts that might possibly be utilized for exam study and preparation.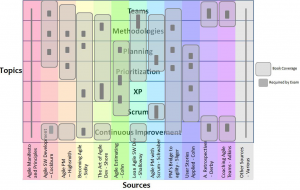 Agile Estimating and Planning
Author: Mike Cohn
Publisher: Pearson Education/Addison Wesley Professional
Publisher: Project Management Institute, Inc.
Agile Project Management: Creating Innovative Products
Author: Jim Highsmith
Publisher: Pearson Education/Addison Wesley Professional
Agile Retrospectives: Making Good Teams Great
Author: Esther Derby, Diana Larsen, Ken Schwaber
Publisher: Pragmatic Bookshelf
Agile Software Development: The Cooperative Game
Author: Alistair Cockburn
Publisher: Pearson Education
Coaching Agile Teams: A Companion for ScrumMasters, Agile Coaches, and Project Managers in Transition
Author: Lyssa Adkins
Publisher: Pearson Education/Addison Wesley Professional
Effective Project Management: Traditional, Agile, Extreme
Author: Robert K. Wysocki
Publisher: Wiley
Exploring Scrum: The Fundamentals
Author: Dan Rawsthorne with Doug Shimp
Publisher: CreateSpace Publishing
Author: Marcus Hammarberg, Joakim Sunden
Publisher: Manning Publications
Kanban: Successful Evolutionary Change for your Technology Business
Author: David J. Anderson
Publisher: Blue Hole Press
Lean-Agile Software Development
Author: Alan Shalloway, Guy Beaver, James R. Trott
Publisher: Pearson Education
User Stories Applied: For Agile Software Development
Author: Mike Cohn
Publisher: Pearson Education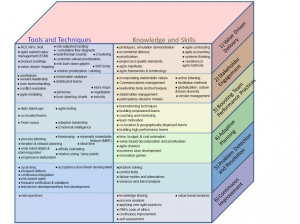 Source : https://www.pmi.org/certifications/types/agile-acp/references