SAFe : The Scaled Agile Framework for the Lean-Agile Enterprise
The Scaled Agile Framework (abbreviated as SAFe), is a set of organization and workflow patterns intended to guide enterprises in scaling lean and agile practice
Along with large-scale Scrum (LeSS), disciplined agile delivery (DAD), and Nexus, SAFe is one of a growing number of frameworks that seek to address the problems encountered when scaling beyond a single team.
SAFe is made freely available by Scaled Agile, Inc., which retains the copyrights and registered trademarks.
SAFe promotes alignment, collaboration, and delivery across large numbers of agile teams.
It was developed by and for practitioners, by leveraging three primary bodies of knowledge: agile software development, lean product development, and systems thinking.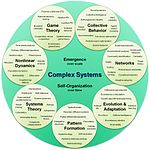 Faire, aimer faire, comprendre ce que nous aimons faire ensemble !
Articles à lecture restreinte :
Pour en savoir davantage sur l'univers Agile consulter ici
ou les posts « in english » here
…/…
« … en réalité, il ne s'agit pas de recevoir de l'Ecole une formation achevée,
mais au contraire de s'y préparer à la recevoir de la Vie … »
(traduction extraite des conférences de Mr Rudolf STEINER)